Research Network 3: Professionalisation of Adult Teachers and Educators in ASEM countries

Prof. Dr. Ekkehard Nuissl von Rein, director of the German Institute for Adult Education-Leibniz-Center for Lifelong Learning and full professor at the University of Duisburg-Essen/Germany and University of Kaiserslautern.
His main research interests are International adult education, Policy of further education, Research of teaching and learning, Professionalisation in Adult Education.
Asian Network Coordinator: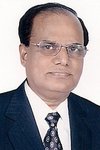 Syed Yusuf Shah (M.A.; M.Ed; M.Phil; PhD) is a Professor of Adult Education at Jawaharlal Nehru University, New Delhi, India where he served as the Director of Adult Education for over a decade. As the founder Director of the International Institute of Adult and Lifelong Education, New Delhi, India since 2002 and Vice President of Indian Adult Education Association during 2003-2009, he is closely connected with the professional activities of nongovernmental organizations. Earlier, he served as a Senior Fellow at the National Institute of Adult Education, New Delhi and Joint Adviser, Education Division, Planning Commission, Government of India.
Professor Shah had short stints of teaching and research at various overseas institutions: as a DAAD Visiting Professor at Duisburg Essen university, Germany; Erasmus Mundus Visiting Scholar of European Commission at School of Education of Aarhus University, Denmark; Development Fellow of the Association of Commonwealth Universities at Warwick University in UK; Kellogg Visiting Scholar at Syracuse University in USA; Senior Social Science Fellow of the Shastri Indo Canadian Institute at Toronto University, Canada. During his professional experience spanning over three decades, he has undertaken twelve research/evaluation projects sponsored by the UNESCO-India, Commonwealth of Learning, UNESCO Institute for Lifelong Education, Indira Gandhi National Open University, Directorate of Adult Education and Asian South Pacific Bureau of Adult Education.
He has published twelve books and sixty six papers and made over thirty presentations at international conferences. He has been an expert member of several committees of the National Literacy Mission, University Grants Commission, World Literacy of Canada and some of the Universities and State Resource Centers of Adult Education in India. Professor Shah is a recipient of Nehru Literacy Award (2007). His research interests include the study of Adult Education Policy, Training and Professionalization.