RN5 Meeting, Kuala Lumpur, Malaysia, June 2013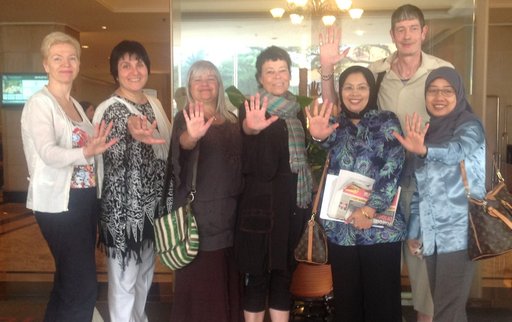 ASEM LLL Research Network 5 Meeting
26-27 June 2013, Kuala Lumpur, Malaysia
Researchers from Research Network 5 "Core Competences" met in Kuala Lumpur on 26th and 27th June 2013 to discuss future directions of the network in relation to two main objectives: publication and dissemination activities; and, funding opportunities. The meeting was hosted by Universiti Kebangsaan Malaysia.
The session began with short presentations from all partners who were able to attend in order to reacquaint everyone with relevant research and projects currently undertaken by partners relevant to the network theme of 'Core Competences'.
In relation to publication and dissemination, a working group was convened and met to discuss possible strategies and the merits of book publications and special issues of journals. With regard to funding opportunities a small working group was formed to investigate the possibilities of EU funding, bilateral funding arrangements between partner states and matched funding schemes.
Presentations
Muir Houston, University of Glasgow, United Kingdom
Past, present and future adult education research: opportunities and possibilities
Professor Dr. Lena Lindenskov, Department of Education, Aarhus University, Denmark
Core mathematical competences in vocational education
Professor Dr. Vibeke Hetmar, Department of Education, Aarhus University, Denmark
Positions and positioning in secondary and upper secondary education
Professor Tatjana Koke, University of Latvia, Latvia
Teachers' Further Education – a framework to keep going. Results of the project
Lifelong Learning: Paramount Issues for Individuals and Organizations
Professor Dr. Koichi Sasakawa, Hosei University, Japan
City game
Dr Karine Oganisjana, University of Latvia, Latvia
Making learning environment entrepreneurship oriented: From problem solution till the conversion of ideas into commercializeable values
Associate Professor Dr. Saemah Rahman, Universiti Kebangsaan Malaysia, Malaysia
Creative thinking competence: What and How – Malaysia's experience
Dr Ruhizan Mohammad Yasin, Universiti Kebangsaan Malaysia, Malaysia
Life skills for rural women: Core competences towards high income
Professor Dr. Soonghee Han, Seoul National University, Korea
Learning Cities in East Asia: Sharing Experiences from China, Japan, and Korea
Comments on content:
Revised 13.11.2018