­­­­­­­­­­
Creating dialogue between researchers and educational policy makers
The ASEM Education and Research Hub for Lifelong Learning (ASEM LLL Hub) is an official network for university cooperation in Lifelong Learning Research between Asia and Europe.
The ASEM LLL Hub's operation is a part of the ASEM education process and it is a strong partner of the Asia Europe Foundation. The Hub brings together more than 100 researchers in its 5 research networks, senior representatives of 36 universities in its University Council and Senior Officials from 22 ministries of education and five flagship international organisations. Read more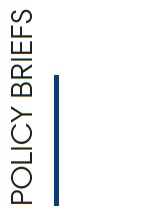 POLICY BRIEFS
A new Policy Brief is ready is out:
The objective with Policy Briefs is to deliver research-informed analysis and recommendations on new policies for the benefit of ASEM members, governments and stakeholders. Policy Briefs are designed by the ASEM LLL Hub members on the basis of their research and based on national or international policies in lifelong learning.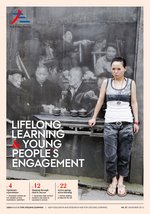 ASEMAGAZINE NO. 7
The seventh issue of the ASEMagazine for Lifelong Learning focuses on lifelong learning and young people's engagement. Click on the cover on the left to read articles, such as "Optimistic expectations", "Big trouble with smooth transitions" and "Active ageing, active learning". Read more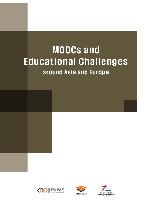 Members of ASEM LLL Hub RN1 have published the the above book on MOOCs.
Authors: Bowon Kim (ed.); Wang Ying; Karanam Pushpanadham; Tsuneo Yamada; Taerim Lee; Mansor Fadzil; Latifah Abdol Latif; Tengku Amina Munira; Norazah Nordin; Mohamed Amin Embi; Helmi Norman; Juvy Lizette M. Gervacio; Jaitip Nasongkhla; Thapanee Thammetar; Shu-Hsiang (Ava) Chen; Mie Buhl; Lars Birch Andreasen; Henrik Jensen Mondrup; Rita Birzina; Alena Ilavska–Pistovcakova; Inés Gil-Jaurena
KNOU (Korea National Open University) Press, 2015.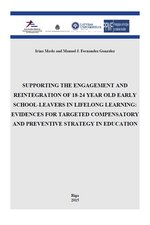 SUPPORTING THE ENGAGEMENT AND REINTEGRATION OF 18-24 YEAR OLD EARLY SCHOOL-LEAVERS IN LIFELONG LEARNING: EVIDENCES FOR TARGETED COMPENSATORY AND PREVENTIVE STRATEGY IN EDUCATION
Members of ASEM LLL Hub RN4 have published the the above report on early school leavers. The report is free for download here.
Authors: Maslo, Irina (Latvia); J. Fernández Gonzalez, Manuel (Latvia)
Contributors: Surikova, Svetlana (Latvia); Pigozne, Tamara (Latvia); Reyes, Zenaida Q. (Philippines); Zuzeviciute, Vaiva (Lithuanaia); Reddy, Dinarayana (India); Uma Devi, Uma D. (India)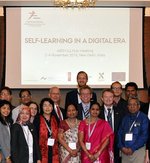 FINAL REPORT FROM THE ASEM LLL HUB MEETING - SELF-LEARNING IN A DIGITAL ERA
- NEW DELHI, INDIA, 2-4 NOVEMBER 2015
The Final Report from the ASEM LLL Hub meeting - Self-learning in a Digital Era is now ready for download. Below you will find the link to the events' webpage that also contains all of the presentations, photos, summaries, etc. Please see more here.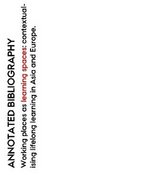 ANNOTATED BIBLIOGRAPHY "WORKING PLACES AS LEARNING SPACES: CONTEXTUALISING LIFELONG LEARNING IN ASIA AND EUROPE"
This annotated bibliography has been developed for the second comparative study of the ASEM LLL Hub Research Network 2: "Working places as learning spaces: contextualizing lifelong learning in Asia and Europe". The study will focus on how employees in selected occupations understand and use their working environments as contexts and opportunities for learning in, at and through work in Asia and Europe – that is, learning that takes place as an integrated dimension of everyday working life. Researchers from 13 different countries in Asia and Europe and with different disciplinary backgrounds are currently working together on contextualizing lifelong learning. Read more here.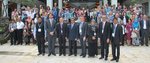 FOLLOW-UP OF ASEM FORUM ON LIFELONG LEARNING, BALI, INDONESIA: RECOMMENDATIONS FROM ASEM LLL HUB
The ASEM Forum on Lifelong Learning gave a fresh impetus for renewing the agenda for lifelong learning. On the basis of this Forum, the ASEM LLL Hub Secretariat has made the following recommendations: states that want to get on the developmental ladder must invest in education, while maintaining a healthy scepticism with regard to the hype surrounding ICT-driven educational strategies and focusing instead on creating a resilient culture of lifelong learning by having a clear focus on formative and more process-oriented assessment. Read more here.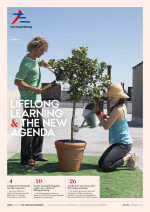 ASEMAGAZINE NO. 6
The sixth issue of the ASEMagazine for Lifelong Learning focuses on lifelong learning and the new agenda. Click on the cover on the left to read articles, such as "Getting to be Denmark? Get the recipe here!", "Teachers are more innovative than policy promotes" and "To stay successful Singapore needs a new culture of lifelong learning". Read more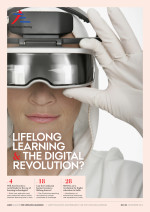 ASEMAGAZINE NO 5.
This issue of the ASEMagazine for Lifelong Learning focuses on lifelong learning and the digital revolution. Click on the cover on the left to read articles, such as "Will Asia become a world leader in the use of learning technologies?", "Can the Confucian learner become a lifelong learner?" and "MOOCs are a revolution for higher education in India". Read more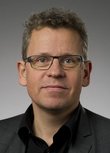 Claus Holm
Chair of ASEM LLL Hub

'Hardly ever before has the demand for educational solutions been so big. At the beginning of the 21st century there is a global demand for research-based recommendations for lifelong learning strategies. The expectations are high, if not enormous. The strategies are expected to contribute to a win-win-situation, i.e. they should solve both humanistic and economic problems for all and at the same time. This is a challenge, which we have to work together to solve'.

Contact us
Anders Martinsen
Head of the ASEM LLL Hub Secretariat
Danish School of Education
Aarhus University
Tuborgvej 164
2400 Copenhagen NV
Denmark

T: +45 2630 6685
E: asemLLL@edu.au.dk
W: www.asemlllhub.org