ASEM LLL Core Competences
ASEM Research Network 5 "Core Competences" of the ASEM Education and Research Hub for Lifelong Learning welcomes researchers from higher institutions in ASEM countries to join the network.
We gather and consolidate theoretical positions which address various areas of human competence. Some researchers examine analytic competence, communicative competence, intercultural and global competence. They investigate how these competences are operating and mobilizing in diverse contexts and how they can be enhanced.
Other researchers attempt to redefine human competence by connecting it with the process of self-transformation. By investigating graduate students' experience of classroom discussion, they propose that communicative competence is closely related to one's reconstruction of the self.
Since it was established only in 2008, RN5 calls for participation from researchers in Asia and Europe, its future direction is still open and quite flexible. We would like to invite researchers who are interested in constructing a new model of research on competence by investigating more diverse and deeper aspects of human competence, to join us.
Network Coordinator:
Professor Saemah Rahman, Universiti of Kebangsaan Malaysia.
Please click here to view the profiles of the research network members.
Learn more about the network's activities here.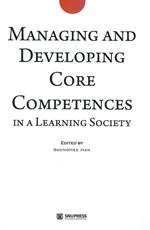 Managing and Developing Core Competences in a Learning Society
Han, SoongHee (ed.)
Seoul National University Press, 2010