Lifelong Learning and Young People's Engagement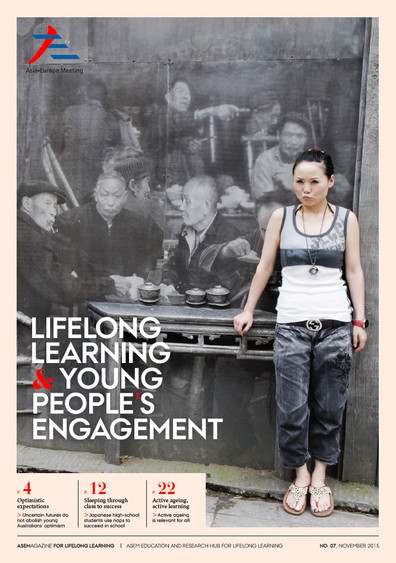 Dear Readers,
You are reading the seventh issue of the ASEMagazine for Lifelong Learning which focuses on lifelong learning and young people's engagement.

Young Australians' post-school futures are uncertain, insecure and fluid in relation to working life. But if you think that this is the recipe for a next generation of depressed young Australians, you may be wrong – this is the claim from Associate Professor Lucas Walsh from the Faculty of Education at Monash University in his article "Optimistic expectations".
In the article "Big trouble with smooth transitions", Senior Analyst Stéphanie Jamet from OECD describes how the cost of the difficulties faced by young people in their transitions is perhaps not sufficiently considered by governments. OECD countries have trouble achieving a smmoth transition.
In the view of Senior Lecturer Brigitte Steger from University of Cambridge we are not as good at taking naps as in Europe. Sounds strange – get the answer in the article "Sleeping through class to success".
The article "Active ageing, active learning" by David Istance from OECD underlines the importance of lifelong learning. Learning is a crucial ingredient of staying active.
Please click on the cover image and enjoy reading. To turn the pages please use the arrow icons or click on the bottom right corner of each page. You can read/print a copy in .pdf format, share with your friends and bookmark the link by using the functions on the bottom menu bar.
You can also access the magazine on the Facebook page of ASEM LLL Hub.
Happy reading!
Anders Martinsen
ASEM LLL Hub Secretariat
Copenhagen, November 2015
Email: asemLLL@dpu.dk
Comments on content:
Revised 13.11.2018