Lifelong Learning and the New Agenda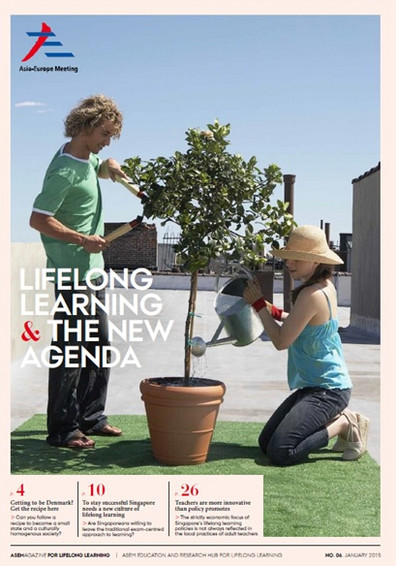 Dear Readers,
You are reading the sixth issue of the ASEMagazine for Lifelong Learning which focuses on lifelong learning and the new agenda.
In the article "Getting to be Denmark? Get the recipe here!", Associate Professor Claus Holm, Ph.D. and Acting Head of Department of Education, Aarhus University, Denmark discuss what Francis Fukuyama has described as 'Getting to be Denmark' – a country with good political and economic institutions: stable, democratic, peaceful, prosperous, inclusive and low political corruption. It does not seem very plausible that contemporary developing – or any other – countries could become like Denmark. So is there not a recipe for how to become like Denmark that works in the year 2015?
According to Principal Research Fellow and Head of Centre for Research in Work and Learning at the Institute for Adult Learning in Singapore, Helen Bound new research shows that the strictly economic focus of Singapore's lifelong learning policies is not always reflected in the local practices of adult education. In the article "Teachers are more innovative than policy promotes" she tells that teachers have a much more humanistic orientation.
In the article "To stay successful Singapore needs a new culture of lifelong learning" by Associate Professor Søren Christensen from Aarhus University it is described how Singapore needs to develop students who can think critically. The question is then whether Singaporeans are willing to leave the traditional exam-centred approach to learning?
This magazine is also a supplement for our upcoming ASEM Forum on Lifelong Learning – 'Renewing the Agenda for Lifelong Learning'. You can see the programme and sign up here.
Happy reading!
Anders Martinsen
ASEM LLL Hub Secretariat
Copenhagen, January 2015
Email: asemLLL@dpu.dk