Lifelong Learning and the Force of Comparison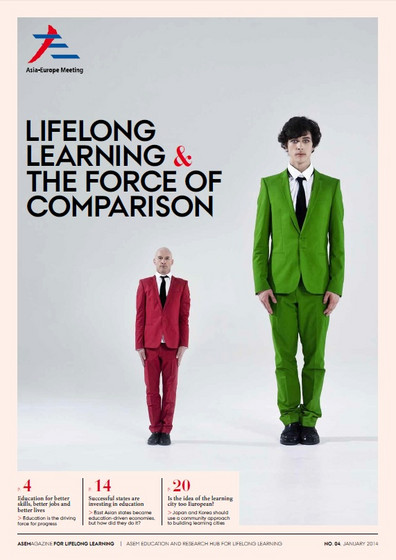 Dear Readers,
You are reading the fourth issue of the ASEMagazine for Lifelong Learning which focuses on lifelong learning and the comparison of education.

In the article "Education for better skills, better jobs and better lives", the Deputy Director for Education and Skills and Special Advisor on Education Policy to the OECD's Secretary General, Andreas Schleicher states that there is no shortcut to equipping people with the right skills and to providing people with the right opportunities to use their skills effectively. Furthermore, he maintains that if there's one lesson the global economy has taught policymakers over the last few years, it is that we cannot simply bail ourselves out of a crisis, that we cannot solely stimulate ourselves out of a crisis and that we cannot "just print money" our way out of a crisis. Instead, in today's world economy, education and skills are the driving forces for progress.
In the article "Successful states are investing in education", Professor Andy Green from the Institute of Education, University of London compares not only the importance of education for the formation of the Western states in the 19th century, but also compares the educational significance of education in the formation of the East Asian states. A main conclusion is that if a state wants greater growth rates than other countries, then it must invest in education.
Professor SoongHee Han from Seoul National University and Professor Atsushi Makino from University of Tokyo give an Asian view on learning cities in the article "Is the idea of the learning city too European?". In their view, the differences between the two continents of Asia and Europe, in this sense of learning cities, need to be mutually respected and explained with different theoretical models. The two professors believe that the distinctive features of the Asian type of learning city can be characterised as a community relations model, in contrast to European learning cities which are basically built on the belief that learning is an individual process and learning city programmes aim to enhance individual competency.
Please click on the cover image and enjoy reading. To turn the pages please use the arrow icons or click on the bottom right corner of each page. You can read/print a copy in .pdf format, share with your friends and bookmark the link by using the functions on the bottom menu bar.
You can also access the magazine on the Facebook page of ASEM LLL Hub.
Happy reading!
Anders Martinsen
ASEM LLL Hub Secretariat
Copenhagen, January 2014
Email: asemLLL@dpu.dk
Comments on content:
Revised 13.11.2018