Lifelong Learning and Employability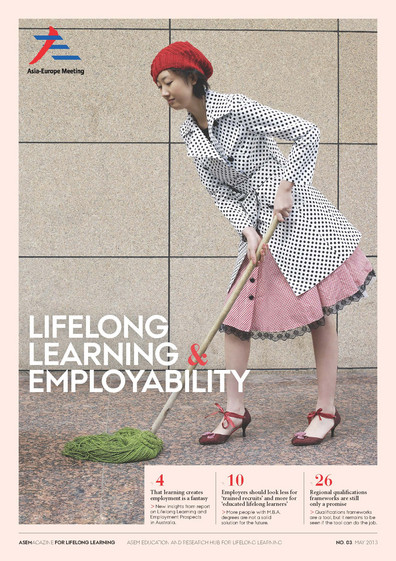 Dear Readers,
You are reading the third issue of the ASEMagazine for Lifelong Learning which focuses on lifelong learning and employment prospects.

In the article "That learning creates employment is a fantasy" featuring the Australian case, Professor Allie Clemans of Monash University noted that learning and its relationship to employment opportunities has had a tendency to be converted to a notion of 'employability' which puts the onus on preparation for employment on the individual. However, it is not just individual motivation alone that generates employment or creates job, she argues. Hence, lifelong learning policies should address the multiple realities and nuances of life chances and life changes. A new set of alternatives principles is needed for the sake of making the market work better.
In the article "The pay-offs of lifelong learning", Professor Karen Evans of the Institute of Education in London informs us that lifelong learning influences life chances and has significant protective effects by keeping adults close to a changing labour market. Furthermore, increasing inequalities in participation in adult learning go hand in hand with rising levels of household income inequality.
The "Youth employment crisis in Europe and Asia" article features the situation and different solutions for this burning issue in the two continents. The Magazine also introduces new sections on Book review and Policy review to create a space for ASEM researchers to share their analysis and evaluation on the quality, meaning and significance of publications or policies in the field of lifelong learning.
Please click on the cover image and enjoy reading. To turn the pages please use the arrow icons or click on the bottom right corner of each page. You can print a copy in .pdf format, share with your friends and bookmark the link by using the functions on the bottom menu bar.
You can also access the magazine on the Facebook page of ASEM LLL Hub.
Happy reading!
Que Anh Dang
ASEM LLL Hub Secretariat
Copenhagen, May 2013
Email: asemLLL@dpu.dk
Book Review
Fejes, A. and Nicoll, K. (eds) (2008) Foucault and Lifelong Learning: Governing the subject.
Reviewed by: Professor Zenaida Q. Reyes, PhD, Philippine Normal University, Manila, Philippines.
ASEM LLL Hub Research Network 4 on 'National Strategies and Policies for Lifelong Learning'.
The arguments of the book's contributors revolve around the construct of governmentality and its application to educational policies, educational practices and learners. These are articulated in three focused questions:
• What are the effects of lifelong learning policies within socio-political systems of governance?
• What does lifelong learning do to our understanding of ourselves as citizens?
• How does lifelong learning act in the regulation and reordering of what people do?
The book review was shortened in the ASEMagazine for Lifelong Learning due to the limited space of the printed version. Please read the full version here.
Comments on content: 
Revised 13.11.2018