RN2 Meeting, Brno, Czech Republic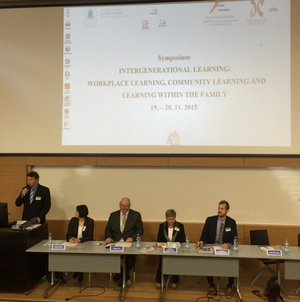 NOTES FROM THE INTERNATIONAL SYMPOSIUM AND RN2 NETWORK WORKSHOP/MEETING HELD IN BRNO, CZECH REPUBLIC, November 18 – 21, 2015.
RN2 participants contributed to the open symposium hosted by Masaryk University conference, followed by RN2 initiated activities.
Symposium "Intergenerational learning: workplace learning, community learning and learning within the family" (19.-20.11.15) – see: intergenerationallearning.cz
RN2-led methodology workshop (20.11.15)
RN2 project presentations and meeting (20.-21.11.15)
RN2-led workshop and project presentations 20.11.15
Participants: Petr Novotný (Czech Republic), Bent Andresen (Denmark), Dev Raj Paneru (Nepal), Maija Zvirbule (Asia-Europe Foundation), Ilona Gehtmane-Hofmane (Latvia), Daiva Bukantaitė (Lithuania), Theo van Dellen (Netherlands), Chompoonuh K. Permpoonwiat (Thailand), Anders Martinsen (ASEM LLL Hub), Areeya Rojvithee (Thailand), Elina Maslo (Denmark, Latvia), Annette Ostendorf (Austria), Katharina Lunardon (Austria/UNESCO, on Skype), Karen Evans (UK, Coordinator).
Anders Martinsen updated members with news from the ASEM Education and Research Hub for Lifelong Learning, including its new model of activities, in which research network meetings have to be attached to an open international thematic conference organised by the host in collaboration with the ASEM LLL Hub Secretariat. The Brno meeting is an example of this model, as is the Melbourne Conference/Research Network meeting taking place in December 2015. The Hub Policy Reviews have also been launched over the past year, with a strong take-up. The next Forum meeting is provisionally being planned for 2016, in Copenhagen.
Karen Evans summarised RN 2 activities in 2015, in particular congratulating Elina Maslo and Katharina Lunardon and all contributing RN2 members for the Annotated Bibliography. The Bibliography has now gone live and can be accessed through the ASEM LLL Hub website. Members are urged to maximise its use by bringing it to colleagues' and students' attention. Theo van Dellen reported that the publication of RN2-led Special Issue of the International Review of Education is expected in December 2015. We congratulated and thanked Theo, Valérie and all contributors for this important, peer-reviewed network output.
Annette Ostendorf, Elina Maslo, Katharina Lunardon (on skype) coordinated a Methodology Workshop (open): "Decoding visual materials in the context of participatory photo interviews in ASEM research projects – illustration along a case from learning at work." ASEF representative Maija Zvirbule (Asia-Europe Foundation) and guest Dev Raj Paneru (Nepal) were warmly welcomed to this session.
The Tourism group presented the collected material (presentations are available on the blog):

AREEYA ROJVITHEE: THREE CASES FROM THAILAND
ILONA GEHTMANE-HOFMANE: LATVIAN CASE
ELINA MASLO: TOURISM SECTOR – TIME, SPACE AND INTERACTION

The Adult Education/Learning group presented the empirical material (presentations are available on the blog):

THEO VAN DELLEN: LEARNING IN THE WORKPLACE: (NON)CONSCIOUS THINKING ABOUT WORK AND THE SELF (TOGETHER?)
KAREN EVANS: RETHINKING THE LEARNING SPACE IN THE WORKPLACE AND BEYOND – AND WHAT DOES IT MEAN FOR INTERGENERATIONAL LEARNING?
DAIVA BUKANTAITĖLEARNING AT WORK – TWO LITHUANIAN CASES

The University staff group presented the following empirical material:

CHOMPOONUH K. PERMPOONWIAT: TWO CASES FROM THAILAND
An extended discussion of next steps focused on the need to bring the work together, with the aim of producing a collaborative outcome in the next year.
The learning spaces project will be completed in 2016, with a collection of papers in a book-length publication edited by Annette Ostendorf and Chompoonuh K. Permpoonwiat. The aim is to publish this outcome from the Asia-Europe Learning Spaces project early in 2017. Annette and Chompoonuh (Caren) will issue a call for articles to be considered for the book. The call will be made early in the new year.
It is proposed that the October 2016 ASEM LLL Hub Forum in Copenhagen, if it is confirmed, will provide an opportunity for authors to discuss and get feedback on their fully drafted articles before finalising the articles for the November 15th 2016 deadline.
Vote of thanks to Masaryk University Faculty of Education.
Our thanks were re-iterated to Masaryk University, notably Milan, Petr and Faculty of Education colleagues, for hosting the symposium and RN2 network activities in Brno and for the friendly and stimulating interactions we had during our visit.
Comments on content:
Revised 13.11.2018