RN5 meeting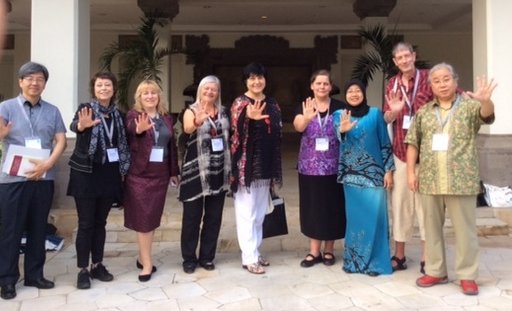 RN5 internal meeting was held in conjunction with the ASEM Forum on Lifelong Learning Renewing the Agenda for Lifelong Learning in Bali, Indonesia where members share research results related to core competence. A total of nine papers were presented by members of the group and discussions held to publish the results in the form of chapter in a book. Members were asked to align the writing in accordance with the theme of the book. Dr Muir Houston was appointed as the editor for the publication of this book. The proposed title of the book is Competences in a Learning Society: Comparative Research in Asia and Europe, The chapters will investigate the nature of competence development in both Europe and Asia, noting similarities and differences in the approaches presented. Competence development is investigated it in a number of ways, from historical, sociological, psychological, and pedagogical perspectives, and will present the findings in order to shape the mode of learning in a future learning society.
The book will be composed of three parts: the first part will deliver theoretical constructions of learning competence in a learning society; the second part will cover case studies that are based upon diverse dimensions (like analytical competence, personal competence, cultural competence, entrepreneurship competence, etc.) and diverse country contexts (each country, sub-region, or Asia and Europe). The third and final part will analyse the cases in view of the first theoretical constructions and suggest some recommendations for policy and practice in the area of competence development in lifelong learning. It is suggested that abstracts will be developed and sent for internal peer review during the course of the summer break with a view to being in a position to approach publishers in the early autumn. Tentative communications will take place between the book's editorial team and prospective publishers during the summer break, with it is hoped a more concrete arrangement in place when the first completed draft of the book will be available.
In addition, a presentation entitled "The Reflective Experience of Adult Learning to Learn in the European Context" by Dalia Staniuleviciene, of Vytautas Magnus University, Lithuania was proposed to be converted into comparative study proposal. Members are encouraged to participate in the implementation of the study.
The meeting also discussed the initiative to recruit new members and the proposal to hold an international conference in 2016 in Glasgow.

Participants:
Prof Saemah Rahman, Faculty of Education, Universiti Kebangsaan Malaysia, Malaysia
Prof Lena Lindenskov, Department of Education, Aarhus University, Denmark
Prof Soong Hee Han, Seoul National University, Korea
Prof Koichi Sasagawa, Hosei University, Japan
Prof Andra Fernate, University of Latvia, Latvia
Prof Vibeke Hetmar, Department of Education, Aarhus University, Denmark
Dr Muir Houston, University of Glasgow, United Kingdom
Dr Karine Oganisjana, University of Latvia, Latvia
Dr Dalia Staniuleviciene, Vytautas Magnus University, Lithuania
Comments on content:
Revised 13.11.2018