RN2 meeting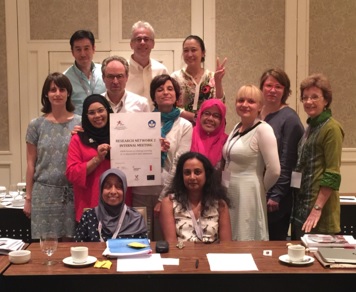 Research Network 2 played an active role in the ASEM Forum on Lifelong Learning Renewing the Agenda for Lifelong Learning in Bali, Indonesia, sharing expertise and research insights with researchers, policy makers and practitioners in both seminar and plenary sessions.
A  well-attended seminar on workplace learning focused on three presentations from Singapore, Indonesia  and UK. Insights from network members into systemic challenges in advancing workplace learning initiatives (Helen Bound) and how workplace learning can foster development and change (Karen Evans) were complemented by the guest Indonesian contribution (Ella Yulaelawati) on adult learning in life skills and entrepreneurship development, with lively questions and discussion to follow.
New members were welcomed in the network meeting, where five teams presented their pilot research in the collaborative Working Places as Learning Spaces project. The new members of RN2 are Dr Helen Bound, Head of the Centre for Work and Learning, Singapore and Professor Bruce Wilson, Director of European Union Centre, RMIT University, Australia.
The network took the final steps towards the Spring 2015 launch of the Annotated Bibliography Workplaces as Learning Spaces: Contextualising Lifelong Learning in Asia and Europe, coordinated by Elina Maslo and made progress towards the planned Special Issue of the International Review of Education on Workplace Learning, Subjectivity and Identity, guest edited by Valérie Cohen-Scali and Theo van Dellen.
An international conference Brno, Czech Republic is in planning for November 2015.
Participants:
Assoc. Prof. Dr. Bent B. Andresen, Aarhus University, Denmark
Assoc. Prof. Dr. Nor Aishah Buang, Universiti Kebangsaan, Malaysia
Professor Dr Valérie Cohen-Scali, Cnam, France
Assoc. Prof. Dr Daiva Bukantaite, Vytautas Magnus University, Lithuania
Assoc. Prof. Dr. Theo van Dellen, University of Groningen, the Netherlands
Prof. Dr. Karen Evans, Institute of Education, University of London, UK
Associate Professor Dr Kenji Hirata, Toyo University, Japan
Ass. Prof. Mag. Katharina Lunardon, University of Innsbruck, Austria
Assoc. Prof. Dr. Elina Maslo, University of Latvia, Latvia
Dr. Pier Paolo Pasqualoni, Senior Lecturer, University of Innsbruck, Austria
Assoc. Prof. Dr. Chompoonuh K. Permpoonwiat, Srinakharinwirot University, Thailand
Padma Ramsamy-Prat, Cnam, France
Areeya Rojvitee, Thailand
Assoc. Prof. Dr. Ruhizan M. Yasin, Universiti Kebangsaan, Malaysia
Comments on content:
Revised 13.11.2018