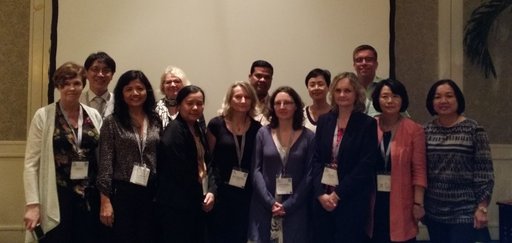 MOOCs are the ongoing research area for Research Network 1. Among the seven seminars of the forum, the network members played leading roles in Seminar D, which was titled "Will MOOCs Revolutionize Higher Education?". In the network meeting, RN1 discussed two items: Firstly, the completion of the National Reports on MOOCs, and then the plan for the second stage of the collaborative research on MOOCs. Later on, the members discussed having another follow-up meeting or conference due in late this year, probably in Baroda, India.
National Reports on MOOCs
Thirteen drafts of National Reports on MOOCs were submitted and five of them were presented and discussed. The countries are as follows: China, Denmark, India, Japan, Latvia, Malaysia, South Korea, Philippines, Slovakia, Spain and Thailand. The authors are to complete their final drafts and send them to the e-ASEM secretariat by the end of June, followed by peer review and revision by the end of August. The final report is scheduled to be distributed by the end of this year and will be contributing to laying the groundwork for further deeper-level research on MOOCs.
Collaborative Research on MOOCs: 2nd stage
For the second stage, the members decided on the themes to work on, and it was agreed that each participant is to work in pairs with a colleague from the counter continent. The confirmed research themes are as follows: MOOCs-readiness, quality assurance, educational technology and engagements, learning cultures, instructional design, learning process, implementation, policies, sustainability and funding and certification. Some of the working papers will be presented at the second network meeting scheduled this year. Participants agreed that the results of this collaboration are to be published on a peer-reviewed international journal by the end of year 2016. After that all the published papers would be compiled and published as a special edition by the network.
Participants:
Bowon Kim, Korea National Open University, Korea
Mie Buhl, Aalborg University, Denmark
Rita Birzina, University of Latvia, Latvia
Taerim Lee, Korea National Open University, Korea
Kyoung Ae Choi, Joongbu University, Korea
Juvy Lizette Gervacio, University of the Philippines Open University, the Philippines
Karanam Pushpanadham, The Maharaja Sayajirao University of Baroda, India
Jaitip Na-songkhla, Chulalongkorn University, Thailand
Alena Pistovcáková, Technical University in Zvolen, Slovakia
Jan M. Pawlowski, University of Jyväskylä, Finland
Latifah Abdol Latif, Open University Malaysia, Malaysia
Inés Gil-Jaurena, National Distance Education University, Spain (newly joined)
Cathrine Hasse, Aarhus University, Denmark (newly joined)
COMMENTS ON CONTENT:
REVISED 13.11.2018