Practicalities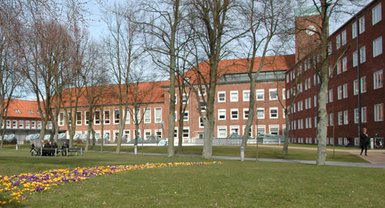 Venue
The conference will be held at:
Department of Education (DPU), Aarhus University
Campus Copenhagen
Tuborgvej 164
Copenhagen NV
The Campus is located in the north-west of Copenhagen, 7 km from the city centre.
---
Visa information
Please contact asemLLL@dpu.dk as soon as possible if you need a supporting letter for your Danish Visa Application. Please contact your nearest Danish Embassy for specific requirements. You may also visit the website um.dk/en/travel-and-residence/danish-visa-rules/ for general information.
---
Accommodation
ASEM LLL Hub members' accommodation will be booked by the organiser after the members have completed the online registration form.
Wakeup Copenhagen Hotel
Carsten Niebuhrs Gade 11
1577 København V
Tlf. 4480 0000
For more information on the Wakeup Copenhagen Hotel please visit hotel website.
---
Transportation
Directions from Copenhagen Airport to Wakeup Copenhagen Hotel
Taxis
There are taxis outside Terminals 1 and 3. A taxi to the hotel should cost approx. 17 EUR depending on the time of day and the day of the week. It often costs more late at night or at weekends.
Public transportation
Public transportation in Copenhagen is very convenient. You can buy tickets for the trains, metro and buses from either DSB dispensers or counters near the exits in Arrival Terminal 3 at the airport (see www.dsb.dk).
Train to Wakeup Hotel directly via Copenhagen's Central Station
Trains leave from Platform 2 below Terminal 3 every 10 minutes. This train ride takes approx. 25 minutes. It takes approx. 10 minutes to walk to the hotel from the Central Station – see map below.
Bus 5A to Polititorvet
Bus 5A towards Husum Torv stops outside terminal 3 and it will take you to the bus stop called Polititorvet, from where it takes approx. 5 minutes to walk to the hotel.
For detailed information and maps click here.
To plan your journeys with different means of transport (buses, metro, trains) within Copenhagen and Denmark please see www.rejseplanen.dk (also in English and German).
If you plan to go to the Copenhagen airport directly from the conference venue you can take a taxi or the S-train to Norreport station and then change to metro. You need a 3-zone ticket and about 45 minutes for both the train and metro rides.
---
Transportation during the conference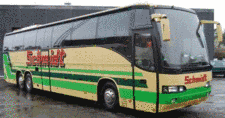 Participants are responsible for transport to and from airport.
Transportation to and from conference venue, including welcome reception, will be provided for the participants staying the the Wakeup hotel (see picture).
Transportation is also provided for the participants joining the afternoon tour to Deer Garden on 29 May.
---
Copenhagen
For further information about Copenhagen, please visit  www.visitcopehagen.com or www.aok.dk
---
Weather
Denmark has four charming seasons: spring – summer – autumn and winter. Spring begins at the end of March to May and summer starts in June.
The average high and low tempurature in May is 18 °C (64 °F) and 8 °C (46 °F). The average high and low of June is 20 °C (68 °F) and 13 °C (55 °F).
The precipitation of May and June is between 42 mm (1.65 inches) and 54 mm (2.12 inches).
---
Electricity
Electricity is supplied at 230 volts A/C, 50 Hz cycle.
---
Emergency Services
Police – Ambulance – Fire Brigade: Dial 112